Universiti Kebangsaan Malaysia
Welcome to the Universiti Kebangsaan Malaysia Public Complaint Management System (ADUAN UKM).
ATTENTION:

All inquiries or complaints related to ICT and Facilities please visit Sistem Aduan ICT dan Fasiliti (SAIF) via

ADUAN UKM is an online channel to manage feedback such as complaints, appreciation, inquiries and suggestions from the public regarding UKM services. Please make sure the complete information is filled in for the purpose of delivering the information to you.
This complaint is only applicable to the UKM community. The helpdesk committee is responsible for managing complaints in accordance with the definition of complaint as stated on the Public Complaints Bureau (PCB) website.
This information is intended to help the general public understand the scope and role of the helpdesk committee in managing complaints at UKM.
Thank you for accessing this system. Your feedback is very important to improve the quality of our service.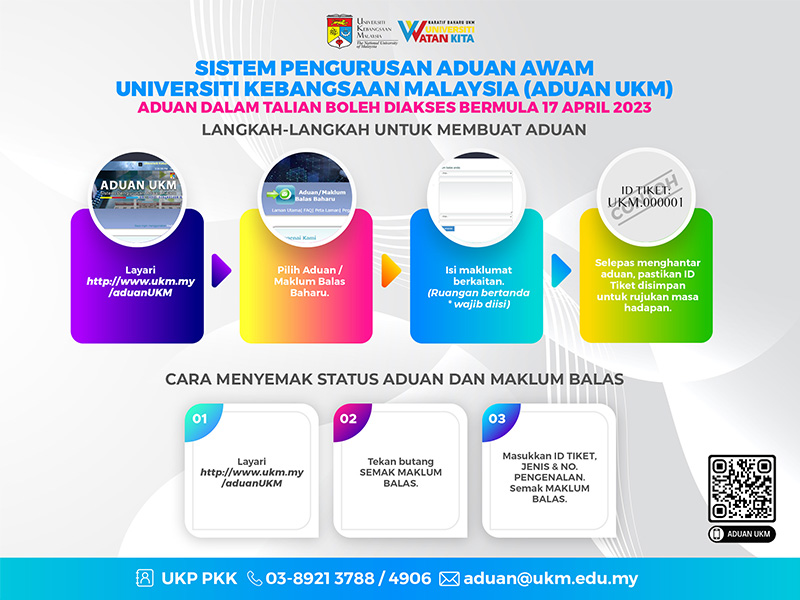 Disclaimer | Privacy & Policy
Copyright © 2008 Biro Pengaduan Awam
Recommended 1024 x 768. Internet Explorer 9 and above, Mozilla Firefox, Google Chrome.